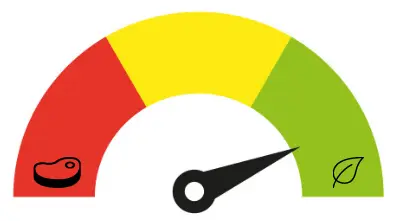 For beginners, the use of the term "veggie" in the mentioned meal item may have confused you. Veggie Straws, on the other hand, are not always vegan, as milk and natural colors are among the components. Some Veggie Straws are regarded as ideal for vegan snacking, while others should be avoided.
You may have Veggie Straws as one of your favorite snacks and want to know if they are vegan. The answer depends on the flavor you intend to consume. Some Veggie Straws flavors include milk and natural flavors, both of which are animal products.
Let's learn more about Veggie Straws!
What Are Veggie Straws?
Veggie straws are a crispy, salted packaged snack that is frequently linked to potato chips.
While other brands are available, the original is Sensible Portions' Garden Veggie Straws, Sea Salt, which was introduced in 2005.
They are a gluten-free, kosher product with no artificial flavors or preservatives and no ingredients derived from genetically modified organisms (GMO).
Are Veggie Straws Made Of Real Veggies?
Veggie straws are not always made with vegetables. Veggie straws are produced with dried potato, potato starch, tomato powder, spinach powder, kale powder, beetroot powder, turmeric, salt, and rapeseed oil. On-chip packaging, these powdered components are often mentioned at roughly 2%.
They have been under scrutiny in recent years for not really having veggies in their chips, despite their marketing implying otherwise. Instead, they comprise the powder and around 40% dry potato. While they still have very little fat than some other chips on the market, they might not have been the healthy snack you think they are.
Are Veggie Straws Healthy For You?
Veggie straws are a well-known yet divisive packaged snack. They're promoted as a nutritious snack, a fun way to eat veggies, and a superior substitute for potato chips.
Even though "veggie" is in the name, this snack may not be all it's cracked up to be.
The answer is that Veggie Straws, in general, are not a healthy choice. Consume them in moderation, like with many other non-nutrient-dense foods.
Despite the name, Veggie Straws are primarily made of vegetable powders and processed potatoes. They should not be used to replace your daily diet of entire greens. Consuming Veggie Straws regularly may pose a risk owing to their high salt content. Excess sodium has been related to hypertension, a major risk factor for heart disease.
In reality, vegetable straws may be considered a deceptively unhealthy snack, defined as a product touted as healthy but containing little nutrients and rich in fat, sugar, or salt. Despite the absence of true health advantages, marketing decisions on the front of the packaging, such as utilizing the term "veggie," may induce customers to have a good attitude toward the product and be more eager to purchase it.
Given the popularity, this snack is not substantially different from other chips, which are heavily criticized for their low nutritional content. However, the quality of your total diet and other lifestyle variables have a significant impact on your risk of acquiring non-communicable illnesses such as heart disease.
As a result, it's critical to keep a close eye on the quality of your nutritional intake and to enjoy exciting meals like vegetable straws in moderation.
Veggie Straws Nutritional Content
Veggie straws are touted as a healthy alternative to potato chips, claiming to have 30% less fat.
But how does it match the Food and Nutrition Service (FNS) Smart Snacks guidance published by the United States Department of Agriculture (USDA)?
The table below gives information.
| Criteria | USDA FNS Smart Snacks guide | Sensible Portions Veggie Straws, Sea Salt |
| --- | --- | --- |
| Serving size | N/A | 1 oz. or 38 straws |
| Calories per serving | 200 or less | 130 |
| Total Fat | 35% or less | 7 g or 9% |
| Saturated Fat | Less than 10 | 1 g or 4% |
| Trans Fat | 0 g | 0 g |
| Sodium | 200 mg or less | 220 mg or 10% |
| Added Sugars | 35% or less | 0 g |
Overall, vegetable straws have low calories per serving but are not significantly different in terms of total fat and sugars compared to the standard.
They have the greatest salt content and surpass the USDA's FNS sodium guideline for Smart Snacks. Veggie straws were the only snack with no fiber and less than 1 gram of protein per serving.
Dietary fiber, the indigestible part of plant foods, is significant in lowering the risk of childhood and adult obesity, as well as several chronic diseases.
Are Veggie Straws Actually Vegan?
Knowing its contents should be a top concern if you don't want to be misinformed.
In this sense, there are a lot of circumstances in which Veggie Straws should be avoided if you follow a vegan diet. Read on to find out.
Milk
Milk is obviously a non-vegan ingredient, and there are several components in Veggie Straws that have milk. The following is a short list of milk ingredients you can find in the snack.
Butter Cream
Buttermilk
Not Fat Milk
Cheddar Cheese
Sour Cream
Whey
Natural Flavors
Vegan natural flavors are exactly as numerous as animal-derived natural flavors. As a result, determining whether the natural flavor used in this snack is vegan is difficult. As a vegan, you should always do your research and read the label when buying products.
Sugar
Veggie Straws include various types of sugar, including cane sugar, simple sugar, and dextrose. All three of these substances have the same issue. This is due to the presence of bone char.
The use of bone char in the bleaching is a significant element in sugar, making the product non-vegan.
Vegan Flavors Of Veggie Straws
Let's have a look at some of the vegan flavors. The veggie straws come in a variety of flavors, but the one downside is that not all of them are vegan. There are various popular veggie straw varieties available on the market.
Let's take a closer look at which flavors are vegan and which are not.
Are Veggie Straws Dairy-Free?
Unfortunately, certain kinds of veggie straws include dairy, making them inappropriate for anyone who is lactose intolerant or lives a vegan lifestyle.
Other brands of vegetable sticks will be comparable as well. Avoid any Cheddar, Sour Cream, or Ranch tastes since they usually include milk, making them inappropriate for vegetarians and lactose-sensitive people.
What Oil Do Veggie Straws Use?
Don't be alarmed. Veggie Straws do not include any palm oil. Canola, sunflower, and safflower oils are used in preparing these snacks, but not palm oil.
It is acknowledged that you use precaution when dealing with this supposedly plant-based greasy substance. Palm oil farming has destroyed thousands of acres of tropical rainforests, endangering several animal species that are forced to seek refuge in locations where they are not welcome and are frequently hurt. Due to a scarcity of food and natural resources, these species are rapidly approaching extinction, and palm oil plantations are simply growing wider and greater as a result of our unrelenting consumption. It is critical to accept responsibility and put a stop to the usage of palm oil wherever and whenever feasible.
Other Vegan Chips Options
There are several vegan chips available! Vegan chips are included in the list below for you to get your fingers into.
Enjoy Life Plentils: all six flavors
Doritos, Spicy Sweet Chili flavor
Kettle Chips: maple bacon, backyard barbeque, and sea salt and vinegar flavors
Indian Life chips: Samosa, Palak, and Masala flavors.
Sun Chips Original flavor
Original Salsitas Spicy Salsa flavored Tortilla chips.
Pringles: Tangy Buffalo Wing and Salted flavors
Earth balance vegan sour cream and onion, and vegan cheddar kettle chips flavors
Taco Bell Tortilla Chips
Popchips sea salt and sweet potato pie flavors
Flamin' Hot Munchos Potato Crisps
Lime and Chile Flavor Sabritones Puffed Wheat Snacks
Please keep in mind that this is not a complete list! Nowadays, vegan flavored, salted crips are available from various manufacturers. Read the ingredients list on the product label.
Fun Ways To Meet Your Daily Vegetable Intake
Packaged snacks, such as veggie straws are not the best approach to satisfy your daily vegetable requirements.
If you find Veggie Straws not vegan enough for you, here are some quick and easy homemade veggie snacks:
Air-fried vegetables. Real veggies, rather than vegetable powders, produce the same crunchy texture. Try this herb and lemon cauliflower nibbles or pumpkin fries.
Raw vegetables with a dip. Carrots with hummus and celery with peanut butter are two other options.
Smoothies. Another enjoyable approach to increasing your vegetable consumption is to include it in your smoothies or to make fruit and vegetable frozen pops.
Baked potato chips. If you don't have an air fryer, you may bake your chips to get a similar result.
Chickpeas roasted. These crispy nibbles may be baked or fried in an air fryer.
Final Thoughts
Veggie Straws aren't healthier than any other package of chips on the shelf.
The name Veggie Straws leads you to believe they are a healthy alternative, and you end up eating more of them than you would with any other snack. Be careful, there aren't many veggies in there. The only role that veggies serve in Veggies Straws is to give color.
It's a tasty snack that may be savored in moderate amounts but should not be used in place of your usual diet of entire veggies.