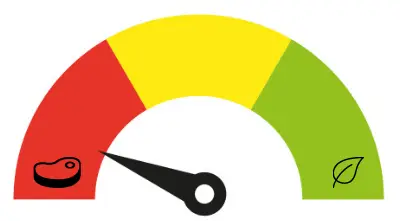 Dunkin Donuts defines their Pumpkin Spice as a drink produced with foamy froth and mixed with creamy espresso, whipped cream, drizzle, and toppings. But, it's not vegan-friendly. It incorporates sweetened nonfat condensed milk, which is never vegan. So, alas, there really is no way of making this seasonal Dunkin Donuts staple vegan.
Let's explore more about Dunkin Donuts Pumpkin Spice, why is it not vegan and what are the substitutes to this crowd's favorite drink. Let's dig in.
Dunkin Donuts Pumpkin Spice Ingredients
Dunkin's Pumpkin Spice was first released on August 18th, the brand's earliest in history, after the launch of the brand's Classic Pumpkin Spice Latte of 2020. To revive your memory, the Iconic Pumpkin Spice Latte combines cinnamon, vanilla flavor, and pumpkin with whole milk and espresso. It's also served with cinnamon sugar sprinkling, caramel drizzle, and whipped cream.
You're searching for some of the most well-known seasonal tastes now. So, cinnamon, vanilla flavor, and pumpkin that are blended with milk and the arabica coffee espresso shot, then cinnamon sugar, caramel drizzle, whipped cream, are on the menu. However, all of these are not for a vegan.
Here is the list of its ingredients:
100% Brewed Arabica Coffee
Pumpkin Spice Syrup
Sugar
High Fructose Corn Syrup
Water
Brown Sugar
Caramel Color
Artificial and Natural Flavor
Potassium Sorbate asPreservatives
Salt
How Is It Prepared?
The milk and espresso are mixed with two syrup pumps, like in any other mixed coffee drink.
Why Is Dunkin Donut Pumpkin Spice Not Considered Vegan?
The primary version of Dunkin's Pumpkin Spice was obviously not vegan-friendly owing to using milk from cows. If you believe switching to dairy-free milk would turn it vegan, think again.
The issue is that the pumpkin syrup also includes milk. The Pumpkin Flavored Swirl Syrup version is also prepared with condensed sweetened milk and nonfat milk, which is a combination of sugar and milk, as per the Dunkin Donuts list of ingredients. As a result, every beverage with pumpkin syrup is non-vegan.
To fulfill Dunkin's vegan recipe standards, according to the company, the drink must include no animal sources, including fish, meat, shellfish, egg, milk, or any honey products, and no rennet or enzymes produced through animals. And that would be impossible in this drink.
Does Dunkin Donut Pumpkin Spice Contain Dairy?
Yes, but milk and whipped cream in the beverage aren't the sole causes.
Milk is present in its syrup. This is bad, especially since the other components contain brown sugar, sugar, high fructose corn syrup, and water.
As a result, this is a big issue that eliminates it from the vegan menu and makes it impossible to create in some other manner. This implies that every drink containing pumpkin syrup is indeed not vegan.
Is It Made With Eggs?
It doesn't appear to include eggs, based on the list of ingredients. That, however, makes no real sense to the same fact that this is not vegan-friendly.
The beverage is indeed not included on Dunkins' vegan list, as well as the qualifications to do otherwise include no animal-derived ingredients, dairy, honey, seafood, egg, meat, or milk.
How Vegan-Friendly Is Dunkin Donuts?
If you're a vegan, you might be thinking about the vegan alternatives at Dunkin Donuts.
The meal selection is really restricted. You could have hash browns or oatmeal but its ingredients vary depending on the locale. You could also get a plain, everything, or sesame bagel, an English bagel, or cinnamon raisin, but then who likes a bagel or English muffin with nothing more in there?
Once it pertains to the beverage option, you now have additional possibilities. If black and intense coffee isn't your style, Dunkin Donuts has already featured almond milk on their list for a long time and announced recently the inclusion of Oat Milk Lattes in their menus around the state.
What Can Vegans Grab At Dunkin Donuts?
Holiday Blend Drip Coffee
Dunkin Donuts has introduced their new Seasonal Coffee Blend, which is prepared using high-quality Ethiopian and Colombian coffee beans with undertones of sweet molasses and dried fruit. If you drink your coffee black, this drink is completely vegan. If you prefer your coffee with milk, choose a dairy-free alternative. Oat milk, coconut milk, and almond milk are all available at Dunkin Donuts.
Vegan Peppermint Mocha Latte
You're in paradise if your all-time favorite beverage is Dunkin Donuts' wonderful Peppermint Mocha Latte. With some substitutions, anyone could turn this drink vegan. The latte includes steamed milk, and rather than whole milk, get any of the dairy-free options. We suggest using oat milk instead since it adds creaminess to a coffee.
This latte's "staple drink" edition contains mocha drizzle, cocoa powder, and whipped cream, however not most of the toppers are actually vegan. To make your drink vegan, simply request a peppermint mocha latte with your preferred dairy-free milk.
You may have it cold or hot. If lattes aren't your thing, consider a peppermint cappuccino, mocha macchiato, or frozen coffee. Just be careful you request it without whipped cream.
Chai Latte
A chai latte is ideal for such holidays. It has a comforting spice combination that contains cardamom, nutmeg, and cinnamon. Simply request a chai latte using almond milk, coconut milk, or oat milk, to turn it vegan. Plus, the chai syrup used here is vegan.
Apple Cranberry Refresher And Apple Cranberry Coconut Refresher
Both these beverages have just the right amount of holiday spice to make you feel comfortable during harsh winter and can provide something unique for every vegan. The cherry and apple tastes are combined with vitamin B and green tea to give you a surge of adrenaline.
Vegan Options In Other Cafes
Starbucks
Starbucks has been expanding its vegan options. Their coffee creamer is produced using oat milk and almond milk.
Peet's Coffee
There has been a lot of variety for vegan consumers.
Pumpkin chai lattes, pumpkin lattes, pumpkin javas, and dark chocolate pumpkin mochas can be made vegan.
Wrapping Up
Unfortunately, this crowd's favorite seasonal drink is not for vegans. No matter how we try to modify the ingredients, the drink can not be prepared without animal-based products.
Check Dunkin Donuts' vegan menu for more additional vegan alternatives. This not only contains methods to veganize your favorite beverages but also offers delectable vegan-friendly brunches like hash browns and avocado toast.