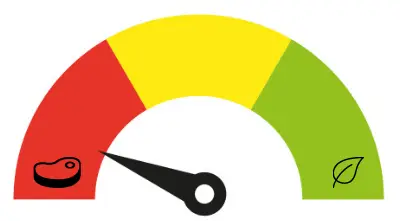 Dunkin Pumpkin Swirl is not vegan. It contains dairy products such as milk, which is obtained from animals.
Whenever Dunkin introduces a new drink, I've made it a habit to check if it's vegan-friendly and how healthy it can be. It already has several plant-based drinks that I've tried. But I just can't do it with its Pumpkin Swirl because it's not suitable for vegans.
Dunkin's pumpkin-flavored drinks aren't vegan-friendly because of their sweetened condensed milk and skim milk content. Dunkin though offers vegan alternatives such as oat, almond, or coconut milk. However, the pumpkin syrup and cold cream used for its pumpkin drinks are made with dairy products.
If you want to learn more about Dunkin drinks, including its pumpkin-flavored beverages, you're in the right place. We'll find out more about these drinks and what options you can have when you take a trip to Dunkin.
Who Is Dunkin?
Also known as Dunkin Donuts, William Rosenberg founded the company in 1950 in Quincy, Massachusetts. In 1990, Allied Lyons, owner of Baskin-Robbins, acquired the coffee and doughnut chain. It started rebranding it to just Dunkin' as a leading beverage company.
Dunkin' now has almost 13,000 locations in 42 countries, which are using the new brand name. Its products include bagels, donuts, munchkins, and coffee beverages.
Why Is Dunkin Pumpkin Swirl Not Vegan?
Dunkin introduced the newest lineup of pumpkin flavors in August 2021. And many people checked on it to find out what this fall season flavor tastes like. Oh, it tastes like pumpkin, perhaps? But what's in it?
Dunkin's pumpkin swirl is made with non-vegan milk, which makes any of the coffee giant's pumpkin beverages not suitable for vegans. Its pumpkin-flavored coffees can also be customized with either dairy or non-dairy milk. For vegans, you can choose either coconut, oat, or almond milk.
Dunkin offers pumpkin-flavored coffees in hot or cold coffee, espresso, frozen coffee, Chai Latte, frozen chocolate, and Cold Brew. Unfortunately, its pumpkin swirl flavor would make these coffees non-vegan despite choosing the non-dairy milk as a creamer.
So, any of Dunkin's pumpkin-flavored beverages such as Pumpkin Spice Signature Latte and Pumpkin Cream Cold Brew are not vegan-friendly. This is due to the pumpkin swirl's milk content.
Fortunately, Dunkin is also conscious of vegans and offers more than 20 items on its menu that are all plant-based. These items can be modified according to your preferences.
Dunkin Vegan Menu
The following items are on Dunkin's vegan menu list. However, the company has warned that all vegan and non-vegan items are prepared in the same place. This means that they can't avoid cross-contamination.
Also, Dunkin's famous donuts are not vegan-friendly. Sorry about that, but the coffee giant is making it up with you through its delicious avocado toast that we're rooting for!
What to eat:
Bagels. Flavors include Cinnamon Raisin, Everything, Plain, and Sesame. You may need to advise the crew not to include cream cheese as some locations might just do it without letting you know.
English Muffin
Hash Browns
Oatmeal (available at participating locations)
Avocado Toast
What to drink:
Espresso
Turbo Shot (additional shot of espresso to add on any drink of your preference)
Hot or Iced Black Coffee
Hot or Iced Coffee with your choice of oat, coconut, or almond milk
Hot or Iced Lattes with your choice of oat, coconut, or almond milk
Hot or Iced Matcha Latte with your choice of oat, coconut, or almond milk
Hot or Iced Chai Latte with your choice of oat, coconut, or almond milk
Hot or Iced Macchiato with your choice of oat, coconut, or almond milk
Hot or Iced Americano
Hot or Iced Apple Cider (availability depends on location)
Coffee Blends in Dark Roast, Original Blend, or Dunkin Decaf
Cold Brew (served black, or with your choice of oat, coconut, or almond milk and a flavor shot)
Toasted Almond, Vanilla, Blueberry, Hazelnut, Raspberry, and Coconut Flavor Shots
Mocha Swirl
Mocha Latte with your choice of oat, coconut, or almond milk
Hot or Iced Cappuccino with your choice of oat, coconut, or almond milk
Hot Tea in Decaf Breakfast Black, Bold Breakfast Black, Chamomile Fields Herbal Infusion, Hibiscus Kiss Herbal Infusion, Cool Mint Herbal Infusion, and Harmony Leaf Green Tea
Sweetened or Unsweetened Iced Tea and Green Tea with optional Blueberry or Raspberry flavors
Coolatta Frozen Beverages in Blue Raspberry and Strawberry
Dunkin Energy Punch (availability depends on location)
Dunkin Refreshers available in Peach Passion Fruit and Strawberry Dragonfruit Flavors
Dunkin Coconut Refreshers
Now you know what to order at Dunkin as a vegan without worrying about dairy or animal products. Dunkin also has an allergen warning on its menu for you to be aware of its possible cross-contamination.
What Is Pumpkin Flavor?
Pumpkin flavor doesn't actually contain pumpkins. Are you surprised? Yes, at first, I even thought there's really some sort of pumpkin in it.
However, this iconic pumpkin flavoring is made with a blend of cinnamon, ginger, nutmeg, allspice, and cloves. It's actually vegan-friendly, but its preparation like Dunkin's includes milk, which makes it non-vegan.
It's very famous during the fall season with different beverages flavored with pumpkin spice. Even Starbucks is known for its seasonal Pumpkin Spice Latte, which generates $80 million in sales annually.
The history of pumpkin flavoring can be traced back as far as the year 1796 in a published American cookbook by Amelia Simmons. The spice has also been mentioned in many different cookbooks that made the flavoring a thing during the pumpkin season.
In 1934, the pumpkin spice was commercially introduced by food manufacturer McCormick & Company. It has now been used by many restaurants, as well as by food and drinks connoisseurs throughout the world.
Best Vegan Pumpkin-Flavored Food And Drinks
If you think that there can't be any vegan pumpkin-flavored beverages, you're wrong. There are actually a few coffee shops that offer pumpkin-flavored drinks that are suitable for vegans. You only need to ask for a vegan option, and you'll have it.
Even PETA is rooting for these flavors at your favorite coffee shops.
Peet's Coffee
Pumpkin Oat Foam Cold Brew
Pumpkin Latte
Dark Chocolate Pumpkin Mocha
Pumpkin Chai Latte
Pumpkin Javiva. You may need to ask for the dairy-free and reduced-calorie option
The Coffee Bean & Tea Leaf
Pumpkin Latte
Pumpkin Cold Brew Latte
Pumpkin Cold Brew Coffee
Pumpkin Spiced Chai Latte
Starbucks
You may order a Hot or Iced Latte with non-dairy milk, vanilla syrup, and ask for the Pumpkin Spice Topping, which is completely vegan.
There are also pumpkin-flavored drinks available in stores that are vegan-friendly. You may check these out at the supermarkets or in groceries. Ranging from tea, coffee, beer, among others, you can have these all guilt-free!
La Colombe Pumpkin Spice Oatmilk Draft Latte
Califia Farms Pumpkin Spice Latte Cold Brew
So Delicious Pumpkin Spice Coconut Milk
Silk Pumpkin Spice
Trader Joe's Pumpkin Spice Almond Beverage
The Republic of Tea's Pumpkin Spice Black Tea
Tazo Chai Pumpkin Spice Tea
Celestial Seasonings Sweet Harvest Pumpkin Black Tea
Trader Joe's Pumpkin Spice Coffee
Archer Farms Pumpkin Spice Coffee (Target brand)
Green Mountain Seasonal Selections Pumpkin Spice
Blue Moon Harvest Pumpkin Ale
Rogue Pumpkin Patch Ale (non-cask)
Samuel Adams Harvest Pumpkin Ale
What's a drink without something to eat? Check these pumpkin-flavored foods, creamer, and spices at your supermarkets or grocery stores.
Kite Hill Plant-Based Pumpkin Pie Cream Cheese
Starbucks Non-Dairy Pumpkin Spice Creamer
Partake Soft-Baked Pumpkin Spice Flavor Cookies
Rule Breaker Pumpkin Spice Bites
Cocomels Pumpkin Spice Caramels
Miss Jones Baking Co. Mini Pumpkin Donut Muffin Mix
Maxine's Pumpkin Pecan Spice Flavor Cookies
Blume Pumpkin Spice Latte Mix
PBfit Powdered Pumpkin-Spiced Peanut Butter
How To Make Pumpkin Spice At Home
Yes, homemade is always the safest way for vegans. Plus, it's always the most delicious one you can have. If you're curious about how is pumpkin spice flavoring made, check out this very quick and easy-to-do recipe that you can try for yourself at home.
Ingredients you need:
One tsp. ground cinnamon
¼ tsp. ground nutmeg
¼ tsp. ground ginger
⅛ tsp. ground cloves
What to do:
Using a small bowl, mix the cinnamon, ginger, nutmeg, and cloves altogether. Store or keep the mixture in an airtight container to ensure its freshness.
You can increase the amounts of all the ingredients according to your preference. The measurements though are enough to give you the pumpkin spice flavoring.
And yes, you now have your own pumpkin spice at home!
It's very easy and quick, right? So don't fret about not having pumpkin spice at your local supermarket or grocery store because you can actually have one on your own. Also, the ingredients needed are easy to find too.
The Bottom Line
Dunkin Pumpkin Swirl is not vegan-friendly, or any of its pumpkin-flavored drinks as they're made with animal-sourced milk. But the good thing is, the coffee giant offers vegan items that you can choose from. Just forget about its pumpkin flavors and donuts because they're not suitable for vegans like you.
On the plus side, there are several pumpkin-flavored drinks that we have listed above, or you can also find some in this article. You can opt for these items the next time you crave pumpkin swirl drinks!