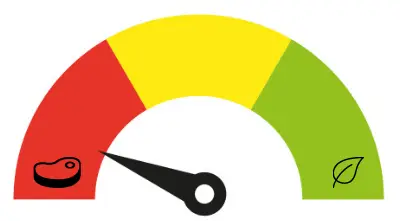 When you're vegan, it is necessary to put everything under the microscope. Coffee is no different; it needs to go through the vegan filter to reach you!
Fortunately, there are many vegan alternatives to the typical ingredients in coffee. Starbucks recognizes that, even with its wide assortment of flavors.
Is the Peppermint Mocha at Starbucks Vegan?
Starbucks often captures the attention of people with its exotic or seasonal flavors. The Peppermint Mocha is an example of this, but is the Peppermint Mocha at Starbucks vegan? If you find yourself craving some of this refreshing drink, it's worth knowing about its vegan prospects.
While the typical, ready-to-order recipe for the Peppermint Mocha is not vegan due to dairy ingredients, you can order alternatives. All you need to do is request the barista to replace the milk in the coffee with almond, soy, coconut, or oat milk. You'll also have to order no whipped cream or chocolate curls, as they contain dairy.
The Peppermint Mocha is a sure-shot recipe for brighter holidays. The good news is that you can also enjoy its signature flavor throughout the year, even if you're vegan. If you believe the devil is in the details, read on for assurance before grabbing a cup of the Peppermint Mocha.
What Are the Ingredients in the Peppermint Mocha at Starbucks?
The all-star cheerful Peppermint Mocha comes from a recipe involving the Starbucks espresso roast combined with peppermint-flavored syrup and sweet mocha sauce.
A standard order of Peppermint Mocha will have the barista serving your drink with 2% steamed milk. Whipped cream and dark chocolate curls will top the glass for a fitting finishing touch.
Vegan Peppermint Mocha
While the recipe for this peppermint delight sounds unmissable, it contains dairy products. Yet there is good news – your decision to be vegan will not deprive you of the Peppermint Mocha.
With vegan-friendly alternatives to milk, such as almond milk, soy milk, and coconut milk, you can enjoy it too. In some cases, you have the option of asking for oat milk, but it isn't widespread in the United States.
With the dairy products out of the way, look at the other ingredients in this drink.
As the name can tell, a mocha sauce contains water, sugar, natural flavor, and cocoa processed with alkali. Mocha is the only type of sauce with no traces of dairy. If you were wondering, when cocoa is processed with alkali, the acidity levels decrease.
The defining peppermint syrup comes from a blend of sugar, water, citric acid, sodium benzoate, and natural flavor. All the clear syrups that Starbucks offers are entirely free from dairy, including peppermint syrup.
In addition to this, the Peppermint Mocha has brewed espresso.
While dark chocolate curls often contain dairy, certain stores use dark chocolate mass processed with alkali. It is free from milk and milk products, so it's advisable to confirm this with the barista while ordering. You can ask for add-ins such as vanilla bean powder as well.
A general tall (12 fl oz) order will contain 3 pumps of mocha sauce and peppermint syrup. It will have 1 shot of espresso too. These servings vary according to the size you order. Here's an iteration of the servings you will receive if you choose to order anything apart from the usual Tall:
Short (8 fl oz): 2 pumps of mocha sauce, 2 pumps of peppermint syrup, 1 shot of espresso
Grande (16 fl oz): 4 pumps of mocha sauce, 4 pumps of peppermint syrup, 2 shots of espresso
Venti (20 fl oz): 5 pumps of mocha sauce, 5 pumps of peppermint syrup, 2 shots of espresso
The Risk of Cross-Contamination
Cross-contaminated food consumption is a given risk that vegans choose to take each time they eat outside. You can never know how products are stored, manufactured, and served.
According to Starbucks, there is no guarantee that any unpackaged products will be free from dairy or allergens. They use the same equipment to store, make, and serve their vegan and non-vegan products.
If you are unwilling to consume food that could be a victim of cross-contamination, it is best to avoid drinking Peppermint Mocha. The chances of your drink containing traces of dairy are relatively high due to the environment in which it is prepared.
Can You Order a Healthy Version of the Peppermint Mocha?
The Peppermint Mocha is undoubtedly a pleasing drink, but it contains many calories! It is unsurprising since the beverage contains a considerable amount of sugar and syrups.
According to health experts, the maximum calories you should consume daily falls between 1500 to 2000 calories per day. Do you wish to get an idea of the extent of calories in a single order of the Peppermint Mocha? Here is a summary of the calories in each available serving size:
Short: 240 calories
Tall: 350 calories
Grande: 440 calories
Venti: 540 calories
If you are a fan of the Peppermint Mocha and need to work towards a healthier diet, there is hope. You can find a lighter version of this beloved holiday treat in what Starbucks calls a "Skinny Peppermint Mocha."
The Skinny Peppermint Mocha has a unique preparation method that uses sugar-free peppermint syrup and skinny mocha sauce.
A vegan order of the Peppermint Mocha will not contain any whipped cream in the first place. So, that eliminates another source of fat, giving way to a drink with lighter calories. A topping of whipped cream makes up 80 to 100 calories, all on its own.
If you order a Tall Skinny Peppermint Mocha, you will be drinking 100 calories only instead of the original 350 calories!
In case you need to make your drink even lighter, here are a few things to mention to the barista:
Ask the barista to decrease the syrup or add fewer pumps to lower the sweetness and calories.
Order a short-sized Peppermint Mocha to support your control of calories.
Do not ask for the chocolate sprinkles, even if they are available as vegan-friendly toppings.
Is the Peppermint Mocha a Seasonal Drink?
The Peppermint Mocha at Starbucks currently holds the #1 rank for people's favorite drinks in the Holiday Collection.
Initially, Starbucks intended to serve the Peppermint Mocha only as part of the seasonal Holiday Collection. The store introduced the Peppermint Mocha in 2002. However, the drink rapidly became a favorite among customers, thanks to its rich and savory mint chocolate taste.
You can find the Peppermint Mocha available at any time of the year, owing to customer petitions. Some stores may not offer chocolate curls as toppings outside of the holiday season, but that's an acceptable bargain.
Does Starbucks Serve the Peppermint Mocha Hot or Cold?
The Peppermint Mocha is the most-loved beverage for the holiday season. More than 30,000 stores serve it. With a vast customer base for this drink, Starbucks offers it in three different forms. You can order the Peppermint Mocha hot, cold, and blended.
What Are Other Vegan-Friendly Beverages Available at Starbucks?
Starbucks is one of the several chains that has started to make efforts to stay in step with expanding veganism. Thanks to this, you can now choose from a variety of non-dairy kinds of milk.
As you read before, these include almond, soy, and coconut milk. The coffee hub also serves Oatly oat milk at approximately 1300 locations.
You have the freedom to ask for a vegan version of almost any drink that Starbucks offers simply by choosing one of these alternatives. However, you'll need to pay extra for the swap.
Here is a summary to help you order vegan-friendly drinks:
Basic beverages such as hot or iced coffee are vegan if you order them with almond, soy, or coconut milk, along with syrup.
Hot and iced tea is vegan too.
When ordering a more complicated drink, ask the barista to hold non-vegan ingredients. These include but are not restricted to whipped cream, protein powder, Java chips, caramel drizzle, and cinnamon dolce topping, which contains butter.
Avoid ordering drinks containing white mocha, pumpkin spice, and caramel brulee.
To Sum Up
Starbucks is expanding its menu to become more accommodative of vegans' requirements. While this is an excellent move, it is unfair to charge extra for ordering vegan alternatives.
If you agree, you can sign a petition initiated by PETA, urging Starbucks to follow the example of other vegan-friendly coffee hubs.
The Peppermint Mocha available at Starbucks is not an originally vegan drink, but you can order it in a vegan version. You can also ask for a lighter variant of the beverage that will help you cut down on calories.