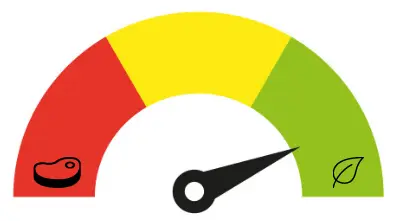 Except for one product that's vegetarian, Joseph's Lavash Bread is vegan-friendly.
Lavash, a type of flatbread is one of my go-to bread when my cravings call for thin crust pizza, sandwiches, and delicious wraps. And Joseph's Lavash Bread is definitely one for the books!
Joseph's Lavash Bread doesn't involve any animal byproducts like gelatin, dairy, and eggs, among others. Except for its Honey Wheat Lavash flavor, which includes honey in the making, everything is vegan-friendly. This includes pita bread, wraps, and other specialties.
Going vegan now and also a fan of wraps? Joseph's Lavash Bread is winning. Let's dig in!
Joseph's Bakery, The Flavors Of Home
Somewhere in the Greater Boston area in 1952, Joseph Boghos and his family arrived from Damascus, Syria. The food was great, but something was missing, and he figured it was the taste of his native homeland.
He had to do something. So, he recreated one of his home country's famous dishes, the pita bread using his family's authentic recipe. His creation was in demand, and his neighbors were there emptying the shelves.
From there, he started Joseph's Bakery in 1972 to keep up with the growing demands of his authentic Middle East specialty flatbread. He housed Joseph's Bakery in a small attic apartment in Lowell, Massachusetts until it was moved to Methuen, Massachusetts three years later.
Things were working well with the Boghos family, and in the 1980s, Joseph's Bakery added more products to its lineup. This included lavash, wraps, tortillas, pancakes, and pizza dough, alongside the pita bread.
The products were made in several grain styles such as whole wheat, flax, and oat bran.
In the 1990s and 2000s, the second and third generations of the Boghos family stepped in to manage the business. With their new ideas, Joseph's Bakery was expanded with over 300 employees and a majority of Boghos women running the business.
Joseph's Lavash Bread Is Vegan
According to Joseph's Bakery product information, its Lavash Bread is vegan along with its other products. However, the flavor Honey Wheat Lavash is only vegetarian because of honey's involvement in its ingredients. The rest is safe for vegans.
All of Joseph's Bakery's products are also leavened, including its Lavash Bread, which contains baking powder and baking soda. These are also kosher-certified, nut-free, and zero trans fat while others are gluten-free. However, some are not free from gluten, which is something that you may need to consider if you have celiac disease.
Joseph's Lavash Bread stays fresh for at least 16 to 30 days when stored at room temperature. If you plan on eating them beyond the 30-day period, you will need to freeze them to keep their freshness.
Joseph's Lavash Bread Varieties
Tender, flaky, and flexible, Joseph's Lavash Bread definitely makes a great meal at home or even on the go. Think about baked chips, wraps, sandwiches, and pizzas. Yes, I'm drooling!
Here's a list of Joseph's Lavash Bread flavors. Again, the Honey Wheat flavor contains honey, which is not suitable for vegans. However, it's vegetarian-friendly as it doesn't contain any other animal byproducts except for honey.
Joseph's Lavash Bread

Flax, Oat Bran & Whole Wheat Lavash
Lavash Flatbread
Honey Wheat Lavash
Multigrain Lavash
Joseph's Other Vegan-Friendly Products
Joseph's Bakery has pride itself in producing quality and authentic tastes of Middle East specialty bread. The pita bread, for instance, was the first recipe that Joseph Boghos recreated using his family's original recipe.
To this date, Joseph's Bakery remains at the top of the game in producing authentic pita bread alongside its other vegan-friendly products. Check them out below.
Joseph's Pita Bread

Flax, Oat Bran and Whole Wheat Pita
Flax, Oat Bran and Whole Wheat Mini Pita
Heart Friendly Pita Bread
Free From Flax, Oat Bran and Whole Wheat Mini Pita Snacks
Flax, Oat Bran and Whole Wheat Variety Pack
Original Pita Bread
Joseph's Hot Dog Pita
Original Mini Pita Snacks
Whole Wheat Pita Bread
Whole Wheat Mini Pita Bread
Original Mini Pita Bread (available only in Joseph's Bakery stores)

Joseph's Wraps

Flax, Oat Bran & Whole Wheat Wraps
Gluten-Free Original Wraps
Gluten-Free Garden Vegetable Wraps

Original Wraps

Multigrain Wraps
Joseph's Bakery also offers wholesale for its products.
What Is Lavash Bread?
Traditionally baked in a metal oven called Tandoor, Lavash bread is a type of flatbread and is usually leavened. It is native to the areas of Armenia, Azerbaijan, Iran, and Turkey.
Lavash was recognized as Armenia's expression of culture and was even included in the UNESCO Representative List of the Intangible Cultural Heritage in 2014. However, there were protests in Iran, Azerbaijan, Kyrgyzstan, and Kazakhstan areas, claiming that lavash is a regional dish, and not exclusive to Armenia's culture.
Some claims also suggest that lavash may have originated in Iran, and generally in the Middle East.
Creating and sharing lavash in the areas of Turkey, Azerbaijan, Iran, Kazakhstan, and Kyrgyzstan were also included in the UNESCO list in 2016.
The name Lavash was derived from the term lavaš, meaning "flat of the hand" as well as from both Armenian and Turkish words, which mean "to knead."
How Is Lavash Bread Prepared?
The traditional preparation of lavash bread includes flour, yeast, water, sugar, and salt if it's leavened. If unleavened, both sugar and yeast are not included in the ingredients.
In traditional baking, the lavash dough is rolled flat against a clay oven, but in modern cooking, a wok or griddle is used instead. Lavash bread has also been a part of modern recipes, including pizza dough.
When fresh, lavash bread is flexible, but it dries out very quickly resulting in hardness and brittleness. This is why it's best to consume lavash bread while fresh, which is great for making wraps and sandwiches.
In the traditional Armenian cuisine, lavash bread is used to make its specialty recipe called khorovats, alongside other wraps with cheese and herbs. In Middle Eastern countries like Turkey and Iran, lavash bread is used to make Durum, a wrap that's filled with kebabs.
Lavash bread is also a staple of Turkish cuisines such as some sweet treats like pestil kavurmasi, hasude, kaysefe, aguz, and helva.
Lavash bread has also been a part of wedding and funeral traditions in some regions of Azerbaijan.
There are also different versions of flatbread that are native to different countries like Iran, India, South Asia, and Central Asia, among others. These are similar to lavash bread although some of them include milk, dairy, and other animal-sourced ingredients.
Barbari Bread
Chapati
Markouk
Matnakash
Sangak
Taftan
Tandyr Nan
Naan
Tortilla
Laffa
Ingredients To Look Out For In Bread
The traditional bread should only consist of at least four basic ingredients that are vegan-friendly. But as the modern world progresses, modern cooking has also advanced with many animal-derived ingredients.
When it comes to buying bread from supermarkets or groceries, as a vegan, I know you're conscious of the ingredients. So to help you out, here's a list of what to look out for when buying bread from any local grocers.
These are non-vegan ingredients..the culprits of non-vegan varieties of bread.
Margarine
Whey
Casein
Caseinate
Sodium caseinate
Ghee
Lard
Honey
Milk
Buttermilk
Cream
Eggs
Butter
For a healthier option, whole wheat or whole grain bread is way better than white bread, especially since the process doesn't shed many nutrients. Research suggests that whole wheat is fiber-rich, which helps reduce the risk of chronic diseases such as stroke and heart attack, diabetes, and certain types of cancer.
However, you still need to check the ingredients because some may include dairy or any animal byproducts.
If you were to buy whole grains or whole wheat bread, here's my top list of vegan-friendly brands that you can easily find on the shelves.
Silver Hills Bakery Macks Flax Sprouted Bread
Food for Life Ezekiel Sprouted Whole Grain Vegan Bread
One Degree Veganic Lentil Grain Bread
Dave's Killer Bread Organic 21
For pita bread, these brands are also vegan-friendly and are available at your local grocer.
Bfree Vegan Gluten-Free Pita Breads
Toufayan Bakeries Low Carb Pita Bread
The Bottom Line
Joseph's Lavash Bread is vegan, and all its products such as pita bread and wraps except for Honey Wheat Lavash that includes, oh well, honey. This makes this certain flavor non-vegan although it's suitable for vegetarians.
The rich culture and tradition of lavash bread have brought Joseph's Bakery to the limelight, serving the New England areas and its surrounding with quality flatbread. This makes Joseph's Lavash Bread became a go-to bread for those who crave wraps, sandwiches, and more.
If there's no way for you to buy Joseph's Lavash Bread, there are other vegan brands that you can try. You just have to double-check the ingredients to ensure that they don't include non-vegan ingredients.
Lastly, it's important that you're doing things healthy without breaking the bank. There are many vegan-friendly bread brands you can consider that are worth your time and budget.
If you want to start making your own lavash or flatbread at home, I wrote a few easy steps on how to do it in this article. Have fun!