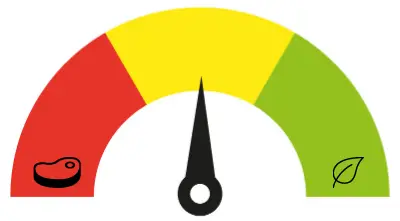 There are a few vegan Flatbread options at Subway, but not all of its bread is vegan.
Subway has Flatbread Wraps, Artisan Flatbread, and White and Whole Wheat Flatbread options. The spinach, regular, habanero, and tomato basil flatbread wraps are vegan-friendly. Its Artisan Flatbread is also vegan, but the White and Whole Wheat Flatbreads include dairy, which is non-vegan.
It can be challenging to order at Subway when you're plant-based. There are a few orders to make, though. A mouthful of salad, some dressings, and a veggie patty if you're lucky. But the good news is, that it's not too difficult to get your vegan fix at Subway.
Let's check more about Subway and the possible ways to do it your way…our vegan way.
Subway, Eat Fresh
Then 17-year-old Fred DeLuca started Subway in Bridgeport, Connecticut, in 1965. Peter Buck shelled out for the restaurant, which was originally named Pete's Super Submarines. Two years later, it was trademarked as Subway and started franchising globally in 1974.
Subway serves fresh ingredients and typically offers a make your own or pick your own topping in your sandwich. Since its founding, it's been consistently in the top ranking global businesses. It has over 41,000 locations in more than 100 countries, and all are owned independently.
Subway, in 2011, started making gluten-free brownies and bread. It also lowered its products' sodium content by 15% in 2011.
Subway Flatbread
Subway, for me, starts with the bread. It has a wide range of bread that you can choose from. If you've been to Subway, you know what I'm talking about. If you haven't, then let's take the time to check it out.
A general rule of thumb for vegans is to check the ingredients first, but if you're at Subway, it's tempting you might forget about being vegan.
Seriously, most of the bread and wraps at Subway are suitable for vegans except those that contain cheese. For instance, Jalapeno Cheese and Parmesan Oregano bread contain dairy and therefore aren't vegan-friendly.
Look for these items below to know where to start when you set foot at Subway. These are vegan-friendly flatbread and wraps that you can begin with.
White Artisan Italian
Artisan Flatbread
Hearty Multigrain
Sourdough
Ciabatta
9-Grain Wheat Bread
Hearty Italian Bread
Roasted Garlic Bread
Spinach Wrap
Tomato Basil Wrap
Habanero Wrap
Wheat Wrap
Honey Oat Bread. This is vegan-friendly itself, except for the honey topping used on it, which you can choose not to.
Pro Tip: Subway has a Veggie Delight sandwich that you can directly get because it's suitable for vegans. Since it's a pick-your-own restaurant, you will need to find what's safe to eat.
How To Get Your Vegan Fix At Subway
So, you already have the list of flatbread and wraps to order at Subway.
The toppings, for instance, are important as they make your sandwich taste like, oh well, a sandwich and look great as a sandwich. Wink!
To help you out, check this list of vegan-friendly fixes that you can have at Subway. Yes, I want to make your life easier!
Toppings and Condiments

Veggie Patty
Guacamole
Pepper
Oil
Oregano
Provencal Herbs
Red Wine Vinegar
Salt
Sea Salt & Pepper
Subway Herb Garlic Oil
Sub Spice
Banana Peppers
Cucumbers
Green Peppers
Jalapeños Pepper Slices
Pickles
Lettuce
Olives
Onions
Spinach
Tomatoes
Avocado
Red Onions
Black Pepper

Sides

Sun Chips
Mrs. Vickie's
Lays
Apple Slices
Applesauce

Soup

Black Bean Soup
Mediterranean Vegetable

Sauces and Dressings

Yellow Mustard
Barbeque Sauce

Deli Brown Mustard
Mustard Seed Spread
Oil and Vinegar
Subway Vinaigrette
Sweet Onion Sauce
Fat-Free Italian Dressing
Sweet Onion Teriyaki Sauce
Creamy Italian
Fire-roasted Tomato Sauce
Giardiniera
Golden Italian
Sweet Chili Sauce
Hot Pepper Relish
Ketchup

Extras

Smashed Avocado
Sliced Avocado
Pro Tip: Subway, depending on location, also offers Beyond Meatballs and Beyond Meatballs Marinara sub. The location with Beyond Meatballs also uses vegan cheese. You can skip the dessert at Subway, as the cookies contain dairy.
What Is Flatbread?
Flatbread is traditionally made with water, flour, yogurt, milk, and salt. It can be unleavened or leavened like pita bread and pizza. Most flatbreads are baked in an oven or fried in hot oil, or cooked using a hot pan. Others would even grill it over hot coals.
Its origins are traced back to ancient Egypt and the Indus civilization. At a site in Jordan, charred bread crumbs were found in 2018 that dated 12,000 BC, long before the region's agriculture started. Analysis suggested that these were flatbreads that contain oats, barley, einkorn wheat, and a plant called Bolboschoenus.
The traditional flatbread contains yogurt and milk, which makes it non-vegan. But as modern baking became a thing, bakers have also made different versions of flatbread, including one that's vegan-friendly.
Types Of Flatbread
Flatbread, in its simplest form, should only contain water, flour, yeast, and salt. But there are other types of flatbread that include dairy or other ingredients that may involve animal byproducts.
Two of the most common bread ingredients that you should watch out for are:
Mono And Diglycerides. Although they are often sourced from soybeans, some manufacturers use mono and diglycerides made of animal products. These are a type of fats that act as emulsifiers to retain moisture and improve the product's texture.
Lecithin. Here's another emulsifier that's also often derived from soybeans, but sometimes it can also be made from egg yolks.
There are several types of flatbread, but not all of these are vegan.
Chepati
Focaccia
Frybread
Lavash
Matzah
Naan
Pita
Roti
Tortillas
Types Of Bread That Are Naturally Vegan
Bread, at its core, is vegan-friendly as it should only contain those four ingredients that don't involve animal byproducts. However, other versions of bread also include animal-sourced ingredients
If you're looking for vegan bread, these are my personal favorite types that are traditionally made with plant-based ingredients.
Sourdough
Pita
Ezekiel
Baguette
Focaccia
Kosher Bread
Make Your Own Vegan Flatbread
If you are into cooking or baking, having a vegan flatbread at home is not too difficult. Many dishes go well with flatbread, and if you were to ask me, I'd go for avocado or my favorite guacamole, cucumber, lettuce with a vegan barbecue dressing in my flatbread. Drooling!
Okay, so let's go try this recipe. Assuming that you have your baking needs at home, this would be really easy for you.
What you need:
1 1/2 tsp. of instant quick-action yeast
1 cup and 1 tbsp. or 255 ml of warm water
2 tsp. sugar
2 1/2 cups or 310 g of all-purpose flour or bread flour
1 tsp. fine salt
3 tbsp. or 45 ml olive oil or any vegan cooking oil is fine
What to do:
Using a large mixing bowl, add the salt, sugar, and flour. Mix them well.
Add the instant yeast mixture and oil. Stir it using a spoon and warm water to create a little sticky dough.
Keep stirring while adding the water, and start bringing it together with your hands. You may also use a stand mixer if you prefer it. But hands are fine too. Keep kneading the dough for about three minutes.
Remove the dough temporarily using your hand, and put a drop of oil into the bottom of the bowl. Put back the dough and turn it around to ensure the sides have oil.
Wet a clean dish towel with warm water, wring it out and cover the bowl with the dough. Leave it there for one hour.
Put flour on your work surface, and turn the dough onto it. Punch the dough to remove gas bubbles, then form it into a round ball.
Cut the dough into six pieces using a knife. Roll each piece into a ball and use a rolling pin to shape it into an oval.
Heat a frying pan or skillet, and put each piece on the hot surface. You'll see some bubbles puff.
After three minutes, flip it to the other side, and wait for another three minutes.
You may wrap the cooked flatbread in a dish towel or put them on a cooling rack.
And you're done. You have your own flatbread!
Pro Tip: Let the flatbread cool down completely before storing it in a container. You may consume it within three to four days. You can also put it in a freezer, it should last at least three months.
The Takeaway
Some types of Subway Flatbread are vegan-friendly. Others are not. You have to check which one is suitable for you. But we've made your life easier now as we have listed the best vegan fix that you can get at Subway.
There are many options at Subway to eat the vegan way. You just have to carefully choose the toppings, sides, or dressings to create your healthy and vegan-friendly sandwich.
Or better yet, make your own vegan flatbread at home. It's healthier, and it's generally lower in calories, especially since you get to choose the ingredients to use. Just don't go over 2,000 calories per day, which is the recommended daily intake by the FDA.