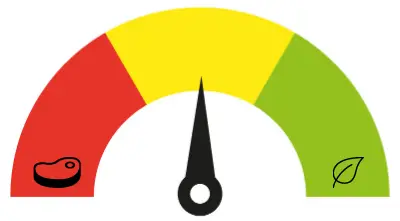 Marinara Sauce is tomato-based and vegan-friendly as it doesn't contain animal by-products.
The typical Marinara Sauce is made with garlic, tomatoes, onions, and herbs, and it's one of my favorite sauces for my pizza and pasta.
There are, however, other non-vegan variations that are commonly store-bought, which include milk cheese or chicken broth and even seafood.
Marinara Sauce is widely used in pizza and pasta dishes and many Italian-American cuisines. Other variations include capers, olives, oregano, salted anchovies, and others. These kinds, especially the store-bought ones, are not vegan.
Making some pizza or pasta for dinner? You may need Marinara Sauce for that! Let's find out more about it and how you can have a vegan-friendly one.
What Is Marinara Sauce?
The typical Marinara Sauce is made with tomatoes, herbs like basil, garlic, and onions. These are its main ingredients, although some would add oregano, capers, wine, and other spices.
These ingredients are still vegan-friendly, but some store-bought Marinara Sauces are already made with milk and cheese or a combination of both. Some would add chicken broth to give its meaty taste.
Others would use salted anchovies for it or mix it with fresh seafood.
According to some theories, its origin is dated back to the mid-16th century, when the cooks aboard the Neapolitan ships from the Americas made the sauce.
It was the time when the Spaniards introduced tomatoes to Europe.
Another theory says that the wives of the sailors of the said ship were the ones who first created Marinara Sauce.
However, the first Italian cookbook that chef Antonio Latini published in 1692 and 1694, respectively, included a tomato sauce, which is believed to be the Marinara Sauce.
The cookbook Lo Scalco alla Moderna, meaning "The Modern Steward" shows that this tomato sauce was almost the same as today's famous modern tomato salsa.
In Central Italy, a sauce similar to Marinara Sauce is called sugo finto, which means "fake sauce."
Marinara Sauce Is Both Vegan and Non-Vegan
While the typical Marinara Sauce is made with vegan-friendly ingredients, some variations today include meat, dairy, and seafood.
Others use chicken broth made from the bones of free-range chickens, while some use the actual beef or sausage broth for the sauce.
But not all store-bought Marinara Sauce involves meat or seafood. Some are already vegan-friendly and are readily available in local grocers or supermarkets.
Vegan Marinara Sauce Brands
The easiest way to have Marinara Sauce is to take a trip to the supermarket and look for vegan-friendly brands.
All you have to do is to check the label of every packaging to ensure that the ingredients don't include any animal-derived ingredients or animal by-products.
So here's a list that you can consider the next time you buy Marinara Sauce.
Cucina Antica Marinara Sauce
Barilla Marinara Sauce
Hoboken Farms Marinara Sauce
365 Everyday Value
Bertolli Traditional Marinara
Classico Riserva Marinara
Newman's Own Marinara
Primal Kitchen
Thrive Market
Mezzetta Artizan Ingredients
There might be a few other vegan brands that you can buy straight from the shelves. You only have to check the label to ensure that they're vegan-friendly.
Make Your Own Vegan Marinara Sauce
And, of course, having your own Marinara Sauce is the best way to have one at hand, which is vegan-friendly. It's not as easy as buying from the grocery, but if you've got enough time, it's fun and exciting to make your own.
I've tried making my own Marinara Sauce at home, of course, for the love of food. And this quick and easy recipe can make a good sauce even when you're a first-timer.
Ingredients
2 cans of 28 oz peeled, crushed, or diced unsalted tomatoes
2 tbsp. olive oil
2 large cloves of garlic
1 tbsp. coconut sugar
1 tsp. sea salt
1 tsp. dried or fresh oregano
1/2 cup roughly chopped fresh basil
1/4 tsp. red pepper flake
3-4 tbsp. tomato paste
1-3 tbsp. nutritional yeast
What to do
Over medium heat, put in a large pot, then add oil or water and garlic once it's hot enough.
Sauté and stir until garlic is golden brown, then add coconut sugar, tomatoes, oregano, pepper flake, and salt. Simmer over medium heat.
Put the heat to low and continue to simmer for 30 minutes while occasionally stirring it uncovered.
Add the basil and stir. Leave it for 5 more minutes.
You can taste and adjust the flavor according to your preference. You may add more herbs, salt, pepper flake, sugar, nutritional yeast, or tomato paste.
Serve with your pizza, pasta, or any other Italian-style dishes!
Every half cup of this recipe gives you 37 calories and 171 mg of sodium.
Best Vegan Substitutes for Marinara Sauce
If you find it difficult to spend time making your own Marinara Sauce, there are at least a few options you can do in place of this sauce.
Because it's tomato-based, it's easier for you to get a substitute that you can even get straight from the shelves. If you're lucky enough, you may even have it already in your pantry.
You only need a little effort, and you'll have your vegan-friendly replacement for Marinara Sauce. These are great for pasta, pizza, or your favorite Italian-style cooking.
Canned Tomatoes. Get the unseasoned brand so you can adjust the taste to your preference.
Tomato Paste
Tomato Puree
Tomato Ketchup
Pasta Sauce
Pizza Sauce
Tomato Juice
Tomato Sauce
Fresh Tomatoes
Tomato Passata
You can use these substitutes on your pizza, pasta, lasagna, Mozarella sticks, and many more.
Marinara Sauce Nutritional Facts
The standard Marinara Sauce, which means it's vegan, offers low calories and sodium. This is good news to all those who are not only following the vegan diet but those who are trying to cut down on calories and sodium.
For every 100 g of Marinara Sauce, here's what you get.
Calories. 51
Total Fat. 1.5 g
Cholesterol. 2 mg
Sodium. 30 mg
Potassium. 319 mg
Total Carbs. 8 g
Protein. 1.4 g
If you notice, potassium is high in Marinara Sauce. This is because tomatoes are rich in potassium.
But don't fret. The potassium content for every 100 g of Marinara Sauce isn't as bad as you think.
There is no official recommended dietary allowances for potassium. But organizations like the National Institute of Health (NIH) recommend that a healthy adult should have between 2,600 and 3,400 mg of potassium intake per day.
This varies by age and gender, but the figures are recommendable for most adults.
Potassium is important in the human body's daily function. It's an electrolyte that helps maintain normal blood pressure and balances minerals and fluid in your body cells.
It also helps reduce the risk of kidney stones and mitigate bone loss. This is why potassium is important, which you can easily get from the food you eat every day.
Potassium helps the proper function of your kidneys, heart, muscle, and nerve transmission.
However, some people have a hard time getting all the potassium needed for the body to work properly. These people, though, are fairly sick or suffering from eating disorders.
These people may need a potassium supplement as recommended by their doctors to help their bodies function properly.
So having Marinara Sauce on one of your favorite dishes every week isn't bad. In fact, it's great for your body's proper functions, such as your kidneys, heart, and nerves.
Top Vegan Dishes with Marinara Sauce
We know that pizza and pasta are great with Marinara Sauce. But there are also other delicious dishes that work best with this tomato-based sauce.
Marinara Sauce can either be used as a condiment or a dip. This makes it convenient for everyone who is in the mood for making Italian-style dishes that require Marinara Sauce.
These are not only delicious but are plant-based too. Rejoice, vegans!
Lasagnas
Baked Spinach-Stuffed Conchiglie
Italian Mushroom Loaf
Homemade Manicotti
Ravioli Pops
Baked Mostaccioli
Zesty Mushroom Marinara
Baked Spaghetti
Eggplant Balls Sandwich
It's worth noting that these dishes can also be made with meat and dairy products. But it's not an option for us vegans, especially since they involve animal-derived ingredients.
If you're into cooking, it's best to make these dishes at home, especially since you'd be able to control the ingredients you wanna use. Otherwise, there are many vegan-friendly restaurants around that can make your food plant-based and healthier.
The Bottom Line
Marinara Sauce is typically vegan-friendly, but modern versions that have emerged may include meat, dairy, and seafood. However, most variations are plant-based, which is suitable for vegans.
The best thing to do is to make your own Marinara Sauce at home or buy one at your local grocer. You only have to choose the vegan brand.
If you're looking for more vegan sauces, I've also rounded some of them in a separate article that also talks about the famous Alfredo Sauce. You can check it here if you can!