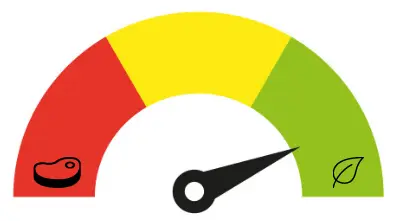 You might find it a bit tricky to get options with specific dietary restrictions in popular brands.
One such brand is the Odwalla smoothies, brought to you by the Coca-Cola company. These smoothies have many variants available in the market, and most of them are purely vegan for consumption.
Is Odwalla Vegan?
Odwalla is a dairy-free smoothie brand owned by the Coca-Cola company. They have a great line of smoothie variants, which are delicious and vegan.
Apart from their protein drinks, any other bottle with an Odwalla label is simply perfect for vegan consumption. They also have two soy-based variants for vegans who are into protein shakes.
Since veganism has been gaining popularity quite recently, it might be challenging to trust existing non-vegan brands for their vegan products.
Therefore, it is necessary to read the product label carefully.
Read on for a detailed review and get an answer to the question: Is Odwalla vegan?
Behind the Product Label
Odwalla is popularly known for bringing various fruit and vegetable smoothies to the market. They are sold under specific categories depending on the ingredients used.
For instance, the smoothies marketed under the 'soy smart' category use soy milk instead of regular milk.
Another category called the 'PomaGrand' is the line of smoothies having pomegranate as one of the primary ingredients. The 'serious energy' category is a range of fruit juices spiked with caffeine.
Then comes the company's most popular category of fruit juices, the Odwalla Superfood smoothie line.
The Odwalla superfood smoothies are the ones that make the maximum sales in the company. They are purely vegan products made without the addition of any animal-based items.
All superfood smoothies are made of three base ingredients. A detailed description of the same is provided below.
Fresh Fruits and Vegetable Purees
The main reason for the refreshing taste and healthy nature of Odwalla smoothies are their primary ingredients, fruits and vegetables.
The company uses the best quality fruits and vegetables to make a puree, diluted to give you smoothies with the right texture and delicious taste.
Their superfoods smoothie range consists of three refreshing flavors:
The original superfood is made with a blend of peaches, apples, bananas, mangoes, and strawberries with some spirulina for added energy.
The mango tango is made with a mix of mango, apple, orange, and banana, with mango being the bold and dominant flavor.
The strawberry C monster is made with apples, strawberries, citrus fruits, and other berries. This smoothie is a blast of vitamin C and is great for immunity.
It is a well-known fact that fruits and vegetables are the best friends of a vegan. They are one hundred percent plant produce, and you can consume them without worrying about compromising your dietary restrictions.
The Odwalla juices are made from pure and freshly prepared fruit and vegetable purees. They do not use fruit concentrates on getting the flavor artificially. This means you can enjoy this healthy drink without guilt, as all you consume is fresh fruit in liquid form.
Wheatgrass
Another primary ingredient of the Odwalla smoothie blend is wheatgrass. Wheatgrass is the name given to the wheat plant's first fresh sprout of leaves. It is a very commonly used dietary supplement used in foods and drinks.
The popularity of wheatgrass is because of its high nutritional content. It is a rich source of dietary fiber, vitamins A, E, and C, vitamin K, riboflavin, thiamine, niacin, pantothenic acid, vitamin B6, potassium, iron, zinc, copper, selenium, and manganese.
These make up a majority of essential vitamins and minerals required by the body.
It is also considered an excellent protein source, containing roughly 8 grams per ounce, which is significantly high.
Being produce of wheat, wheatgrass is also a vegan addition to the smoothies. They add an extra hit of energy and protein to the juice mix that you might not get in regular cold-pressed juice.
Barley Grass
Like wheatgrass, barley grass is also the fresh grass of the barley plant used in many foods, drinks, and dietary supplements. It is an excellent source of nutrients like fiber, polyphenols, flavonoids, vitamin K, vitamin C, and vitamin A.
Barley grass is commonly seen at juice counters and smoothie bars. This is because it supplements your drink with an extra boost of nutrients.
It is known to enhance immunity and support the health of the heart in the longer run. Again, being a component of the barley plant, barley grass is 100% vegan. You can consume it guilt-free and stress-free.
Spirulina
The superfood category of Odwalla contains another ingredient called spirulina. Spirulina is a type of algae that falls in the cyanobacteria category.
It has gained immense popularity worldwide because of the extraordinary amount of protein it holds in itself. Not just protein, it is also enriched with the goodness of all the B-complex vitamins, calcium, and iron.
Spirulina can help boost the nutritional value of any food or drink it is added to. The organism harvests a great deal of energy by photosynthesis. Any vegan can rely on spirulina to fulfilling all their basic nutritional requirements.
Adding spirulina to the mix will make your smoothie more wholesome and energy-rich. You can consider it an addition to your regular diet without worry. Since spirulina is a green color alga, the color of the superfood juice is also green.
You don't have to freak out about its taste because of the green color. It comes with the same delicious taste as promised by any other smoothie of Odwalla.
Soy Milk
Apart from their fresh fruit smoothies, you can also try their soy milk-based protein smoothies as a vegan.
They have a lot of different options when it comes to protein smoothies, but only two options are vegan. Soy milk is a popular option among vegans. You can consume it without any issues.
Health Benefits of Odwalla Smoothies
Fruit and vegetable smoothies are a great way to obtain that balanced diet you are constantly striving to achieve.
We all get so wrapped up in our work lives that we hardly spare any time to indulge in our health. Therefore, treating yourself to an Odwalla smoothie now and then can keep you healthy and active without any extra effort.
Here are a few benefits of drinking Odwalla smoothies that you might find interesting.
Breakfast in a Bottle
Breakfast is the most important yet neglected part of our diet. We often skip our breakfast and grab something unhealthy from fast food joints because of being in a rush to reach somewhere.
Instead of doing that, why not buy a smoothie bottle by Odwalla? Every bottle is made with fresh ingredients loaded with high nutritional value. Fruits are one of the most popular breakfast items as well.
Since it is a juice bottle, you can easily carry it and consume it on the go.
This is the best way of never missing your breakfast and making it healthy and light.
Extra Boost of Energy
Not a lot of people are into consuming fruits regularly. Investing in fruits is thought to be a waste, and we often buy chocolates instead.
Odwalla smoothies are made with fresh fruit purees. If not in a solid form, with one smoothie bottle, you can at least consume the required amount of fruit in the form of liquid.
It does not just help you achieve a balanced diet. It also helps give you that extra boost of energy needed to give your day an active start. You get all your essential vitamins and minerals in a bottle and can take them anywhere.
Antioxidant Supply
Many fruits are a great source of antioxidants. Antioxidants play a significant role in reducing the number of toxins generated as metabolic by-products in our bodies. They are also responsible for slowing down the aging process of cells and tissues.
Consumption of fruits can enhance the health of your skin and give you a natural glow.
Final Thoughts
Smoothies are a great way to make your meals wholesome and are enriched with vital vitamins and minerals. If there is an easy and vegan-friendly way to do the same, we should indeed make it a regular habit!
With Odwalla smoothies, you can indulge in a healthy and refreshing lifestyle without worrying about anything. They provide you with all essential nutrients, packed in a bottle and delivered with care, ready for consumption.
Add this fantastic drink to your food to make your diet even more balanced and healthy.