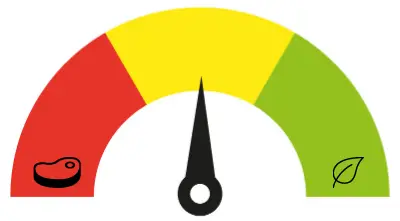 Your love for baked goods and carrying on a vegan lifestyle may have brought you to a crossroads. All of us, vegan or otherwise, have had our share of midnight cravings, dreaming about cookies, crescents, cinnamon rolls, pie crust, and biscuits.
You can get these ready-to-savor delicacies from Pillsbury. But is Pillsbury vegan-friendly?
The good news is that you don't need to curb your cravings now that you have this cheat guide of accidentally vegan Pillsbury products. We have delved into the ingredient list of all their products to find out whether they are vegan or not.
Is Pillsbury Vegan?
So, are Pillsbury products vegan? No, but also yes. Pillsbury's products generally include milk, other dairy derivatives, or eggs. Nonetheless, Pillsbury has a range of accidentally vegan snacks.
Accidentally vegan implies that these products from Pillsbury are not explicitly made for vegans but are free of animal derivatives.
Which Pillsbury Products Are Vegan?
Pillsbury produces a range of freshly baked goods, some of which do not have animal-derived ingredients like honey, eggs, milk, or other dairy products.
We've done our homework to figure out which products are vegan. These include some varieties from Pillsbury biscuits and the Original Pillsbury Crescent Roll.
Pillsbury Biscuits
They are available in 3 different sizes; the standard Grands Biscuit, Grands Jr Biscuit, and the Value pack. Some of these biscuits are vegan. A few others contain traces of animal derivatives. This happens when the biscuits are produced in the same factory outlet as animal-based foods.
Pillsbury's accidentally vegan biscuit range includes the Southern Homestyle Original, Flaky Layers Sweet Hawaiian, and the Southern Homestyle Buttermilk.
However, even these cans may be labeled as "may contain milk," which implies its cross-production in a unit with milk-based products.
To be sure of their vegan credentials, let's go through the ingredients of these Pillsbury biscuits. These are the common ingredients of our accidentally vegan biscuits from Pillsbury:
Soybean Oil: Sourced from soybeans after heating and cracking, the soybean oil is 100% vegan. These biscuits contain less than 2% of hydrogenated soybean oil.
Dextrose: It is a sweetener sourced from corn. We have checked that the bacteria used to culture this sugar is dairy-free and thus vegan-friendly.
Sugar: Though natural sugar is vegan, it may be purified using bone char. Manufacturers are increasingly opting for other vegan-friendly filtering agents to make sugar more suitable for vegans.
Enriched Bleached Flour: Enriched flour includes vitamins and minerals for additional benefits. It contains folic acid, ferrous sulfate, riboflavin, thiamine mononitrate, niacin, and certain bleaching chemicals.
None of these contain any animal derivatives.
Baking powder: Pillsbury uses a vegan-friendly mixture of sodium acid pyrophosphate, baking soda, and sodium aluminum phosphate as its baking powder.
Other vegan ingredients include:
Salt
Potassium chloride
Xanthan gum
Water
Pillsbury Crescent Rolls
To our surprise, another product from Pillsbury's "accidentally vegan" range is its Original Crescent Rolls.
You can add and combine these crescent rolls in several dishes as a side dish with your vegan soup, use it to create tofu in a blanket, or make a sweet dish by adding blueberry or apple filling in its center just before baking.
The Original Crescent Rolls from Pillsbury are available in packs of 8, 4, and 2.
The Pillsbury Original Crescent Rolls contain ingredients similar to those in Pillsbury vegan biscuits. These are as follows:
Enriched flour (bleached)
Water
Soybean oil
Sugar
Hydrogenated palm oil
Baking powder
Less than 2% partially hydrogenated soybean oil
Mono and diglycerides
Wheat gluten
Dextrose
Salt
Potassium chloride
Xanthan gum
Preservatives – TBHQ and citric acid
Food color – Yellow 5, Red 40
Here, hydrogenated palm oil replaces butter, which provides the crescent rolls with a greater shelf life and makes them dairy-free.
Which Pillsbury Products Are Non-Vegan?
Not all products from Pillsbury are vegan. They have dairy-loaded products like Pillsbury cookie dough, cinnamon rolls, brownies, pizza crust, and other baked goods.
Even with the Pillsbury biscuits and crescent range, some varieties are off-limits for a vegan diet.
Non-Vegan Biscuits
Pillsbury Biscuits With Icing: You need to be careful with the topped biscuits, which come loaded with choco chips and icing, which contains cheese-derived whey. Their ingredients mention milk, thus eliminating them from our vegan-only list.
Flaky Layers Honey Butter: As the name suggests, these biscuits contain milk-derived butter. Plus, they also include petroleum-made Yellow 5, which, though vegan-friendly, is bad-mouthed for being tested on rats and mice.
Southern Homestyle Butter Tastin: The Southern Homestyle biscuit contains butter too. In addition to that, it also has natural and artificial flavors, which may be derived from animals or plants.
Buttermilk Frozen Biscuits: This type contains whey, which is a milk derivative. However, the ingredient label only mentions that it 'may contain milk derivatives.
Are All Crescent Rolls Vegan?
The original version of crescent rolls, crescent rounds, and their reduced-fat versions are vegan.
Other options like Butter Flake Crescent Rolls, Honey Butter Rolls, and apple-filled crescent rolls have similar ingredients. Still, they may contain milk-derived butter, whey, and animal-derived artificial flavors.
Is Pillsbury Vegan Range Healthy?
A lot of people switch to a vegan lifestyle for the health benefits that come with plant-based foods. However, Pillsbury baked goods don't necessarily make the healthy cut. Loaded with sugar, fat, and sodium, a Pillsbury biscuit won't be the go-to choice of a health-conscious person.
Moreover, increased sugar and salt intake can lead to several severe illnesses, including diabetes, obesity, and heart disease, among other things.
For instance, the Homestyle Southern Style biscuit contains 160 calories per piece, with 6g of fat, 470mg of sodium, and total carb content of 25g. Plus, it is mentioned in that package itself that these do not offer sufficient calcium, vitamin D, or potassium for your daily needs.
These products lack any substantial amount of whole grains or fiber and rank pretty low in nutritional value. The plus side is that they have zero trans-fat, despite containing hydrogenated oils, which have more saturated fats than most regular oils.
To cut it short, these products are highly processed, brimming with artificial coloring and preservatives.
All in all, Pillsbury treats are not your healthiest bet but can surely be consumed to satisfy your occasional sweet tooth.
A Word of Caution
As mentioned on the back label of most Pillsbury products, they may contain milk derivatives. These products are made in the same environment as some milk-based products.
So, even though the above-listed products are not derived from animals, they are produced within the same outlet that makes non-vegan products. Consequently, there is a great possibility of cross-contamination, which exposes your otherwise vegan Pillsbury treats to contain traces of animal-based ingredients.
Since Pillsbury is not actively running a vegan-friendly product range, these mixes are commonplace. Then, whether these products are fit for consumption in your vegan diet depends on the scope of your diet.
If you are particular about these possible animal traces, then none of the products from Pillsbury is vegan-friendly for you. However, in practicality, a 100% vegan meal is only possible if you make it yourself from scratch.
We recommend avoiding Pillsbury dishes and similar products if you have a severe milk allergy. But, if you are on a vegan diet and face no allergies, you can surely indulge in these vegan-friendly delicious treats from Pillsbury.
For stricter practitioners, even the possibility of animal product traces or milk derivatives could disqualify any product from being vegan-friendly.
Another important caveat with accidentally vegan foods like those from Pillsbury is that the ingredients used in their products can change at almost anytime. The company does not market itself as a vegan-friendly brand and is, thus, not obligated to notify consumers of any changes in its vegan-friendly products.
Wrapping Up
To sum it up, there is no straightforward answer to the question: 'Is Pillsbury Vegan?' While some biscuits and crescent rolls from Pillsbury appear vegan-safe, they may still have milk derivatives.
The vegan-friendly option includes the Southern Homestyle Original, Flaky Layers Sweet Hawaiian, and the Southern Homestyle Buttermilk. In addition, the Original flavor Crescent Rolls and Rounds from Pillsbury are also vegan.
However, these products are not loaded with health benefits despite being vegan. They have considerably high amounts of sugar, sodium, and fat, which makes them unfit for daily consumption. However, if you want a vegan-friendly, delicious treat, hop right in and bite into these baked goodies.
Lastly, Pillsbury goods are not 100% vegan like other market-bought products. If that concerns you, you can go the DIY road and make yourself some freshly-baked vegan treats.