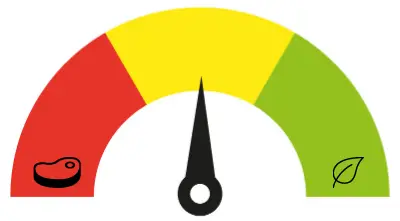 Not all store-bought granola products are vegan.
Granola is one of the favorite snacks of the health-conscious. It is comprised of rolled oats, nuts, and puffed rice that is baked firmly until it becomes crispy and golden brown. One would think that because granola's main ingredients are plant-based, all available granolas at the store are automatically vegan.
However, it is still possible that some store-bought granolas are not good for vegans, even if they are heavily advertised as organic and cruelty-free. The sweeteners and additional flavors used in a granola bar might make it non-vegan.
Ingredients That Make Commercial Granola Non-Vegan
The best way for you to spot the non-vegan choices for granola at the grocery store is to check the label. If you are aware of the ingredients that you should avoid as a vegan, then you can easily make a decision on which commercial granola products to put in your shopping cart.
Honey
One of the popular sweeteners used in store-bought granola bars is honey. Because it is also a naturally sticky substance, honey serves as a binding agent so that the granola bar stays intact.
There are products in the market that are advertised as made with organic ingredients, making them the apparent healthy choice for the consumers. One of these all-natural ingredients they are speaking of is honey, which is preferred by many people as a substitute for refined sugar in sweetened products, including granolas.
As for vegans, the question you should be asking is if these healthy ingredients like honey are allowed in a vegan lifestyle. In the case of honey, this sweetener is considered non-vegan.
You might be wondering how come honey is not suitable for vegans when it is not extracted from animals. Honey is simply acquired from beehives. Now, that is where the issue begins because the production of honey is based on the exploitation of bees.
Honey can be extracted from wild bee colonies and the method of extracting honeycomb is very destructive to the bee's home. Many bees even die in the process as the hive needs to be crushed in order to remove the honeycomb.
There are some manufacturers who are now advertising a humane way of collecting honey from beehives. Instead of getting honeycombs from wild bee colonies, they are setting up boxes where domesticated beehives are placed inside.
To make sure that no bees will be harmed in the extraction of honeycomb, beekeepers expose the boxes to smoke so that the bees will safely vacate the hives that they worked so hard to build. Aside from driving away all the bees from their home, smoke also removes pheromones, which is the means of communication among bees.
Still, in spite of the efforts to make honey production look more acceptable, the fact still remains that bee colonies are forced into labor just to meet our demand for honey. To make sure that the domesticated bee colonies are dedicated only to producing large amounts of honeycomb, beekeepers snip the wings of the queen bees.
All the facts stated above are more than enough reasons to keep honey off the vegan choices. If you ever see honey listed on the label of a granola bar brand, you should avoid that brand. Instead of honey, look for granola products that use molasses, rice syrup, or maple syrup as sweeteners.
Chocolate
Another ingredient that most people incorrectly consider vegan is chocolate. The main component of any chocolate is cocoa powder, which is plant-based. So how come chocolate is not good for vegans?
No animals were harmed or exploited in harvesting cocoa that is used to make chocolates. The problem lies within the additional flavoring used in making some of the chocolates in the market. More often than not, chocolate manufacturers add dairy to their products. Of course, everyone knows why dairy or milk-derived ingredients are off-limits to vegans.
There are plenty of store-bought granolas with chocolate flavor. The safest thing to do is to avoid these chocolate-flavored granola bars to make sure that you will not be consuming milk contents from them. Although, if you have the time to research, you may scan the ingredients list or allergy section of a certain product to confirm if there are milk additives present.
Milk
Milk being non-vegan does not need to be explained further. If you learn that a granola product contains milk, you can easily strike that product off your shopping list. Some products may not be that obvious to have milk contents. As a tip, if you see that a granola bar has whey or whey protein concentrate, that product also has milk derivatives on it.
Although, it is worth mentioning that some store-bought food items are now using special vegan milk. As always, you should check the label of the product to make sure that the milk used in the product is not derived from animals. You must choose the ones that use soy milk or coconut milk instead.
Marshmallow
Sadly for vegans, most marshmallows used in store-bought products are non-vegan. Even if you have confirmed that a certain marshmallow brand has no dairy or egg derivatives, most marshmallows are still made of gelatin. Gelatin is made of crushed connective tissues of animals.
What you can do is to check if there are granola products at the store that use vegan marshmallows. However, vegan mallows are often sold separately and most store-bought granolas still use the traditional marshmallow.
Which Store-Bought Granolas Are Vegan-Approved?
To make your shopping decisions easier for you, we have listed the tried-and-tested vegan options for store-bought granola. These products are guaranteed to have no hidden animal-derived ingredients. They are produced with no animals exploited or put into danger.
Back To Nature Apple Blueberry Granola
Vegans prefer Back To Nature Apple Blueberry Granola because the flavors used in this product are all extracted from fruits. This is why you can enjoy eating it with all its plant-based, natural goodness.
Its great packaging maintains the crunchiness of the granola, plus the sweetness of the apple and blueberry flavors is not overdone. You can enjoy it as a plain snack, or pour it in your bowl with milk.
The ingredients of Back to Nature Apple Blueberry Granola are whole grain rolled oats, evaporated cane juice, pineapple juice concentrate, pear juice concentrate, dried apples, dried wild blueberries, peach juice concentrate, and salt.
Kind Healthy Grains Clusters
Another vegan granola product that is readily available at the store is Kind Healthy Grains Clusters. It is easy to find in grocery stores and even in online vegan shops. It is also more affordable compared to other granola snacks.
What you can enjoy about Kind Healthy Grains Clusters is the variety of fruit-based flavors. It is sweet and extra crunchy that you can eat it as it is or make it your breakfast cereal.
The key vegan ingredients of Kind Healthy Grains Clusters are whole grains, dried cane syrup, flax seeds, chicory root fiber, non-GMO canola oil, vanilla extract, molasses, apple puree, plum puree, apple juice, blueberry puree, brown rice syrup, glycerine, sea salt, citrus fiber, and citrus pectin.
Lark Ellen Farm Grain-Free Granola Bites
The last but definitely not the least is Lark Ellen Farm Grain-Free Granola Bites. This one is an awesome find because there are only a few grain-free options for a store-bought snack. Lark Ellen Farm Grain-Free Granola Bites comes in five delicious flavors, and some of them are the savory kind which you will find interesting.
The thing with this granola product is that it is chunker compared to others. That is why if you intend to turn this into a cereal, you have to crumble the granola chunks into smaller pieces. Nonetheless, you have nothing else to look for with regards to all-natural sweetness and vegan approval.
The ingredients of Lark Ellen Farm Grain-Free Granola Bites are organic maple syrup, organic sprouted sunflower seeds, organic sprouted almonds, organic sprouted pumpkin seeds, organic sprouted walnuts, organic sprouted cashews, organic unsweetened coconut, and sea salt.
Making Your Own Vegan Granola At Home
If you want to have more vegan options for granola, you do not always have to rely on the commercially available ones. The beauty of veganism is that if you are left with no choice for a vegan substitute, you can make one on your own. You just have to use your creativity and cooking prowess.
In making your homemade vegan granola, you have the liberty to pick plant-based and cruelty-free ingredients based on your own preferences. If you want your granola to taste more fruity, you can use a combination of fruit juice or extracts to go with your crushed oats, nuts, and seeds.
The steps in making vegan granola are pretty easy. The first step is to mix the oats, nuts, seeds, and puffed rice together in a bowl. You should also have another bowl reserved for mixing nut butter, syrup, and other vegan sweeteners.
After thoroughly mixing the ingredients in separate bowls, pour the wet mixture into the dry one and stir until they look almost homogenous. You have the option to mold the granola into certain shapes then lay it on a baking tray. Your homemade vegan granola is now ready to bake in the oven!
Wrapping Up
While there may be some traps in choosing vegan-friendly store-bought granola, it does not mean that you have limited options. The influence of the vegan movement has driven manufacturers into making products that are safe for vegan consumers.
There are also a handful of food makers that are dedicated to providing more choices for vegans. After all, it is not really that difficult to be a vegan given that we have an entire community of vegans that support each other.