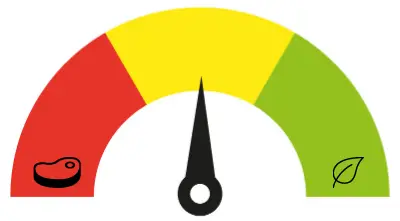 Starbucks Hot Chocolate can be made vegan on request.
Ah, Starbucks. One of its beverages that I really like is the hot chocolate that I pair with raspberry cake. Since I'm not a huge fan of sweets, I always ask the crew to add very little sugar to my hot choco. Yum!
Starbucks has several beverages that are vegan-friendly. Although Hot Chocolate isn't typically served vegan, you can opt for non-dairy milk. The coffee giant offers almond, soy, coconut, and oat milk.
If you're a hungry vegan like me who always craves plant-based eats, it can be challenging when you go to a non-vegan place. But the good news, vegan-friendly options are available at Starbucks. Let's start digging!
Starbucks, Your Coffeehouse Giant
Founded in 1971 by Gordon Bowker, Zev Siegl, and Jerry Baldwin, Starbucks has become a huge hit in the coffee industry. When they sold the company to Howard Schultz in the 1980s, Starbucks started to dominate sales with huge expansions worldwide.
Not only that Starbucks offers different coffee-based drinks, but it also offers food to pair with coffee as well as some merchandise. Its official merch includes tumblers, scoops, coffee presses, and mugs.
A few locations called Starbucks Evenings offer wine, beer, and starters. Branded Starbucks coffee, ice cream, and bottled cold coffee beverages can also be purchased at groceries in the U.S.
Starbucks pioneered the drink that it called Frappuccino, which has been one of its famous beverages. As the largest coffeehouse chain in the world, Starbucks offers hot and cold drinks, micro-ground instant coffee, whole-bean coffee, caffe latte, espresso, juices, full and loose-leaf teas, and pastries, and more.
Headquartered in Seattle, Washington, Starbucks is on the 114th rank of Fortune 500 and on the 288th rank of Forbes Globe 2000 Companies.
How To Order The Vegan Version Of Starbucks Hot Chocolate
So as I mentioned above, Starbucks Hot Chocolate can be easily made vegan by request. Its standard hot choco has whipped cream and dairy milk, but the coffeehouse giant offers non-dairy milk for us vegans. Yoohoo!
Instead of real chocolate, Starbucks makes its hot choco with mocha syrup, which is vegan-friendly. It's normally served with steamed milk and whipped cream and drizzled with chocolate-flavored syrup. But you can ditch these non-vegan ingredients and get the non-dairy milk instead.
You can also ask your barista to get you a pump or two of Starbucks' peppermint syrup if you want a distinct flavor.
Let's check the standard ingredients according to the Starbucks website.
Milk
Mocha Sauce (Water, Sugar, Cocoa Processed With Alkali, Natural Flavor)
Whipped Cream (Cream, Mono And Diglycerides, Carageenan)
Vanilla Syrup (Water, Sugar, Potassium Sorbate, Citric Acid, Natural Flavors)
Starbucks Hot Chocolate Nutrition Facts
Starbucks Hot Chocolate is undoubtedly delicious, but you may also have to consider its calories in one serving. Here's what I found for the size grande 16 fl oz.
Calories. 370
Total Fat. 16 g of the Daily Value (DV)
Cholesterol. 50 mg of the DV
Sodium. 160 mg of the DV
Total Carbs. 43 g of the DV
Protein. 14 g of the DV
Caffeine. 25 mg of the DV
Pro Tip: It's worth noting that the USDA's recommended calorie intake per day is set to 2,000, although it varies by age and gender.
Starbucks Vegan-Friendly Beverages
These days, ordering drinks as a vegan from Starbucks is no longer as difficult as it was years ago. The coffeehouse giant has joined many other brands offering vegan-friendly options, including Hot Chocolate.
If you wanna know more about Starbucks beverages that you can order vegan by request, here's the list. Some of these are accidentally vegan, especially since it's coffee or espresso-based.
Check out these amazing Starbucks vegan fixes.
Americano
Blended Strawberry Lemonade
Caffè Latte
Caramel Macchiato
Cinnamon Dolce Frappuccino
Coconut Milk Latte
Flat White
Golden Ginger Drink
Iced Pineapple Matcha
London Fog Tea Latte
Mango Dragonfruit Refresher
Mocha Frappuccino
Nitro Cold Brew
Pink Drink
Very Berry Hibiscus Refresher
Violet Drink
Teavana
Cool Lime Refresha
Cold Brew
Chocolate Smoothie
Strawberries and Crème Frappuccino
Shaken Sweet Tea Lemonade
Green Tea Crème Frappuccino
Caffè Misto
Strawberry Smoothie
Caramel Frappuccino
Of course, a delicious vegan-friendly drink isn't complete without vegan cakes and snacks at Starbucks. If you're interested in its snacks, here's what you can get.
Raspberry Cake
Moist Choco Cake
Falafel & Slaw Wrap with Tomato Salsa
Fresh Mango with Lime
Falafel, Quinoa, and Lentil Salad with Pomegranate Kernels
Coconut and Lime Cake
Carrot Cake
Pecan & Caramel Brownie
Chocolate & Caramel Muffin
Beyond Meat Breakfast Sandwich
Turkee and Trimmings Toastie
Very Merry Beyond Meat Sandwich
No Meatball Marinara Wrap
Five Grain Oatmeal
Cherry and Linseed
Peach and Raspberry Overnight Oats
Tu-Nah Sandwich
Peanut Butter Cups
Five Grain Oatmeal
Pro Tip: Take note that these offerings may vary by location, so you'll have to check with the crew if these are available in-store.
Starbucks Vegan-Friendly Syrups
Fortunately, Starbucks mostly uses vegan syrups for flavoring and drizzling its drinks. And we're definitely living for it. The following syrups that the coffeehouse giant uses are suitable for vegans.
Vanilla Syrup
Sugar-Free Vanilla
Caramel Syrup
Sugar-Free Caramel
Hazelnut Syrup
Sugar-Free Hazelnut
Almond Syrup
Gingerbread (seasonal)
Mocha Drizzle
Pumpkin Spice (seasonal)
Top Coffee Shops That Serve Vegan Hot Chocolate
I know sometimes you really want to just pop into a coffee shop and get your vegan fix of hot chocolate. And you might find it challenging, but these coffeehouses, apart from Starbucks, also serve plant-based hot choco.
Pret a Manger
Peet's Coffee
Leon
Costa
Caffè Nero
Whole Foods Market's Allegro
Vegan Hot Chocolate Brands
Craving Starbucks Hot Chocolate will definitely make you take a trip to one of its locations. If it's only a walking distance from you, great. But if you need to drive only to get stuck in the traffic, it's definitely a no, no for me.
So if you think the time isn't right to go to Starbucks, I checked a few hot chocolate brands that are a great fix for vegans. I have a few of these at home, and I figured I could share some with you.
Cacoco
Castle Kitchen Premium Hot Chocolate
Coconut Cloud Vegan Hot Cocoa
Equal Exchange Organic
Ghirardelli Premium Hot Cocoa Mixes (select flavors)
Good & Gather
Nibmor Organic
Silly Cow Farms
St. Claire's Organic
Swiss-Miss Non Dairy Hot Cocoa Mix
Apotheker's Organic
Bare Life
Bixby
Cocoa Cravings Drinking Chocolate
Cocoa Felice
Cocoringa Moringa Cacao Hot Chocolate
Elements Truffles
Four Sigmatic Mushroom Hot Cacao
Franzese
Gnosis Raw Chocolate Elixirs
Golden Goddess
Godiva
Guittard
InJoy Organics
KOS Holy Cacao Mix
There are still a lot of vegan hot chocolate brands out there. You only have to check the label to see if the ingredients used suit vegans.
Make Your Own Vegan Hot Chocolate At Home
Of course, homemade is our favorite. Why not? You'll only be unable to save time by taking a trip to a coffee shop, but you'll also be able to take control of the ingredients.
If you also love homemade, try this easy vegan hot chocolate. I've done this at home a few times when I feel like having hot choco instead of my usual morning routine with a cup of joe.
If you're curious about what I pair with it, I always get a vegan croissant that I can find in a bakery only a few blocks away from where I live. For sure, you can find one too wherever you are.
Ingredients:
1 cup unsweetened almond milk
1 tbsp. unsweetened cocoa powder
1 1/2 tbsp. chopped dairy-free semisweet chocolate chips or bar
Sweetener of your choice
1/8 tsp. peppermint extract (optional)
Coconut whipped cream (optional)
What to do:
In a large mug, add the almond milk and put it in the microwave or on a saucepan for a minute over medium heat.
When the milk is warm, add the chocolate, sweetener, and cocoa powder. Mix well.
Continue heating in the microwave or stovetop until your preferred temperature.
Adjust the taste according to your preference.
Add your extract, such as peppermint, as well as your topping, and enjoy!
Best Vegan-Friendly Treats To Pair With Hot Chocolate
Not only that, I paired my hot chocolate with a croissant. There are also a lot of treats to have with your hot choco. Here's what I personally love. These are vegan-friendly options, by the way.
Cheesecake
Peanut Butter Lasagna
Churros
Kettle Corn Snack Mix
Pies
Chocolate Chip Cookies
Chocolate Fudge
Wafers
Donuts
If you want your hot chocolate to be tastier and richer, you can either drizzle it with maple syrup, add candy canes, or add a few chili peppers. Trust me, these work well with hot chocolate!
The Takeaway
Starbucks Hot Chocolate is either vegan or non-vegan, depending on your request. You can also opt for a vegan version with a pump of peppermint syrup for that classic taste with a kick.
If you're interested in more vegan options at Starbucks, check out this article I wrote. It contains comprehensive details on what you can have at the famous coffee house. Have fun!