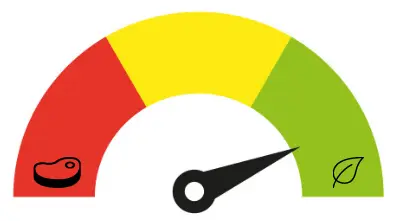 Dips are the perfect accompaniment to elevate any dish, especially those with a crunch. Fritos is one of the leading corn chips and dipping sauces manufacturers that has been operational since 1932. However, as a vegan, your options can be limited. So, is Fritos bean dip vegan?
Is Fritos Bean Dip Vegan?
Not only is the bean dip by Fritos healthy and loaded with protein but also vegan-friendly. None of the ingredients used in the dipping sauce consist of animal-derived products. Additionally, the corn chips and barbeque-flavored Fritos are primarily vegan as well.
Hence, if you're ever craving a creamy dip, you can surely turn to Fritos and relish their products. Now that you can include Fritos bean dip on your platter, let's delve deeper into its details.
What Does It Taste Like?
You must know that a mere whiff of the bean dip will take you back to football game nights. With a renowned brand like Frito-Lay, you can't expect anything less than a flavorful and perfectly seasoned dip.
Therefore, the dip lives up to its expectations and has a rich and creamy texture to it.
Unlike salsa, it isn't overly hot and doesn't pack much heat but has a garlic and spice kick. It's a crowd-pleaser owing to the savory taste and proper consistency. However, the best part is that it doesn't carry canned beans' flavor, unlike other bean dips on the market.
You can mix and match it with any snack of your choice, and most people have strange preferences when it comes to that. Nonetheless, it should please and satisfy your taste buds as a form of comfort food.
Some of the popular combinations are Cheetos, Fritos, Doritos, and nachos.
Nutritional Value
The following table includes the nutritional value of Fritos bean dip. It's moderately healthy for your consumption, apart from being vegan.
Fritos Bean Dip (serving size – 2 tbsp.)
| | |
| --- | --- |
| Calories | 35 kcal |
| Fiber | 1 g |
| Total Fat | 1 g |
| Saturated Fat | 0 g |
| Cholesterol | 0 mg |
| Sodium | 190 mg |
| Total Carbs | 5 g |
| Dietary Fiber | 2 g |
| Sugars | 0 g |
| Potassium | 3 g |
| Protein | 2 g |
What Does It Taste Like?
Quite evidently, since they don't make use of any animal-based products, you can confidently consume the bean dip. The ingredients that constitute the dip are as follows:
Pinto Beans
The main ingredient behind this tasty store-bought dip by Fritos is pinto beans. Beans come in a host of different variants, and these are the speckled beans called frijol pinto in Spanish.
Besides, they are healthy yet offer a mouth-watering taste. You can transform these beans into anything, ranging from dips, tacos, and soups to chili.
Corn Oil
Corn oil is a healthy alternative to vegetable oil and is used in many everyday recipes as well. Another reason for that is corn oil is generally inexpensive when compared to other conventional oils. It's purely extracted using the germ of maize, and thus it's safe for vegans.
Maltodextrin
As complicated as that sounds, maltodextrin is just a white, starchy powdered version of corn. It works as a thickener, flavor enhancer and also increases the shelf life. You'll likely find this in all significant packaged food items such as cakes, soft drinks, and dips.
It's a crucial part of the Fritos bean dip recipe and accords it a long shelf life while retaining the lovely flavor. Also, it's vegan-friendly.
Dried Onion
An impactful factor behind the flavor of the Fritos bean dip is the dried onions. These are minced onion flakes that are seasoned, fried, and dried.
Moreover, you can add them to soups and other mild dishes as they are packed with flavor. They also improve sleep, contain prebiotics, and are more intense in texture than fresh onion.
Dried Garlic
Fritos also include dried garlic powder and cloves in their dip to give it a kick. Even a pinch of dried garlic is more potent than a fresh clove in terms of taste. It's plant-based, hence, vegan-friendly.
Other Ingredients
Apart from the constituents mentioned above, Fritos bean dip also contains the following ingredients.
Jalapeno peppers
Vinegar
Salt
Proprietary spice mix
Sugar
Water
Chili pepper
Natural flavors
Health Benefits of Bean Dips
A bean dip has a creamy consistency and is super delicious. It helps improve your overall eating experience. However, the taste is not the only thing attached to bean dips. They also have some health benefits worth considering.
Dietary Fiber
A Fritos bean dip mainly contains dietary fiber. Dietary fiber, as you might know, helps improve your digestive system and prevent constipation. It also helps regulate your blood sugar levels and lower cholesterol levels.
Sodium
Moreover, bean dips contain some levels of sodium that help in controlling blood pressure. Sodium helps conduct your nerve impulses and assists your muscles in working correctly. It's also helpful in maintaining a balance between water and minerals.
Pinto Beans
Since bean dips are usually made using Pinto Beans, it carries various health benefits. Pinto beans are loaded with multiple nutrients such as carbs, fiber, protein, fat, thiamine, iron, and many others.
They are also highly rich in antioxidants that help protect your cells against damage. Additionally, they are particularly rich in kaempferol, which has many health benefits, including repressed cancer growth.
Kaempferol also aids in reducing inflammation and is linked with having lower chances of strokes. Moreover, Pinto Beans aids heart health, improves blood sugar regulation, and boosts weight loss.
Cholesterol
Fritos bean dip contains 0% cholesterol. That ultimately leads to better heart health and a lower risk of heart disease.
Protein
Bean dips have high levels of protein vital for the growth and survival of your body. Proteins help build antibodies, strengthen muscles, repair tissues, proper oxygen regulation, and various other essential processes.
Weight Loss
Healthy bean dips can help you maintain a healthy weight. Since beans are rich in proteins and fiber, you feel fuller faster and end up eating less than you would have. Hence, bean dips help lower body weight and BMI, and you get to have your dream body.
Other Vegan Store-Bought Dip Options
Other than the Fritos bean dip, you have other vegan-friendly options to choose from when it comes to dips. Here are some of the best ones.
WayFare Dips
You can combine most chips and crackers with WayFare dips. The most popular ones are blue cheese, ranch, and French onion flavors. Further, the vegan jalapeno cheddar flavor predominantly goes well with nachos.
This Dip Is Nuts
This concoction is an almond-based dip with an earthy, nutty texture. Moreover, you can take a pick from pepita, green chili, buffalo, and green onion varieties.
Trader Joe's Dips and Spreads
Be it the vegan kale dip or cashew and basil pesto, the spreads won't disappoint you, and you'll soon be addicted. The savory sandwich spread is also quite popular among vegans and non-vegans alike.
Non-vegan Dips to Avoid
It can be a little tedious to read ingredients and locate vegan foods. To make it easier for you and help you sail through your vegan journey, we have curated a list of some non-vegan dips. It would help if you steered clear of these.
Pork & Pinto Bean Dip
Just like its name suggests, this bean dip isn't vegan. It's gluten-free and contains low levels of fat and high levels of protein. However, it also has pork rinds to enhance flavor.
Chili's Copycat Skillet Queso Dip
This bean dip has a smooth, consistent flavor because it uses Velveeta cheese as one ingredient. Moreover, this bean dip also contains milk. This dip isn't vegan, and so you should avoid buying it.
Trader Joe's 7 Layer Dip
This 7-layer dip may look appetizing, but it's strictly non-vegan. It contains loads of shredded cheese. It also includes lots of sour creams to enhance the flavor.
Pork & Black Bean Dip
Even though this product is gluten-free and contains low fats and high proteins, its non-vegan. Furthermore, this product is full of pork rinds and is not an option for you.
Bush's Best Black Bean Dip
This one is a seasoned bean dip that contains bacon fat, and you must not consume this product if you're a vegan.
Hidden Valley Dip
This dip has a thick and creamy texture that might look appealing. However, it contains animal-based products such as milk and eggs.
Rojo's Classic 5-Layer Bean Dip
This 5-layer dip has many ingredients, including loads of sour cream and cheddar cheese. That's why it's unsuitable for all vegans.
Final Words
Adopting veganism is not only great for your body but also kind to the planet. With over 9.6 million Americans going vegan, you'll find many delicious and innovative vegan recipes emerging. Also, those options include various snack options to appease your soul and taste buds from time to time.